Well, how do you even begin to describe Buddy Emmons' tonal personality on the pedal steel? You start with Round 1, and hope by Round 10 you're still in the fight. Buddy Emmons was a heavyweight player: with notes that sting you, make you cry like a baby, but yet are as soothing as an ocean's breeze. Considered by most the best pedal steel player ever, he graced us with his music, his style, and his smile.
Bubbly, warm, striking, daring, bold, contemplative, and tasteful are but a few adjectives that start to describe his musical personality. It was virtuosic, technical, humble, and warm-hearted. Able to hang with the best musicians in the world, his notes conveyed deep, articulate expressions of pedal steel playing at its best. I like to think of him as the pedal steel version of James Bond: he could do it all, and with style and grace. He could also get down and dirty on some blues when the occasion called for it! He recorded with Ray Charles at a point in his career.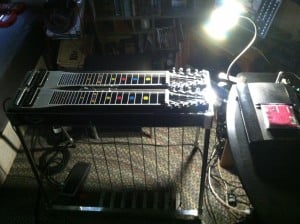 Albums with Emmons worth checking out…
Live – Buddy Emmons (This is show from 1978 International Steel Guitar Convention)
Steel Guitar Jazz – Buddy Emmons
---
Also, check out these tracks below if you've never heard them.  These are affiliate links.