As an Amazon Associate Playpedalsteel.com earns from qualifying purchases. This page contains affiliate links.
Many classic artists and bands have enjoyed the pedal steel's presence on their albums and recordings. The pedal steel guitar has such an interesting sound, and these artists understood this and sought it out for their music.
Did you know Jimmy Page from Led Zeppelin played pedal steel on some of their albums?
Also, the iconic opening tracks of Pink Floyd's Dark Side of the Moon are dripping with pedal steel guitar.
Check out these 11 classic songs with pedal steel guitar. They are truly a pleasure to listen to!
"Teach Your Children" – Crosby, Stills, Nash & Young
Album: Déjà Vu
Release Date: 1970
As soon as this track begins, the pedal steel soars joyfully in this classic song by Crosby, Stills, Nash & Young.  The pedal steel has a country rock vibe to it, and bounces melodically throughout.  
Believe it or not, it is Jerry Garcia playing the pedal steel.  A departure from his iconic role in the Grateful Dead, Garcia loved pedal steel guitar and playing it.  
As the story goes, Garcia traded his session work for this track to Crosby, Stills, Nash & Young in exchange for their vocal harmony expertise.  Garcia had in mind the Grateful Dead's American Beauty and Workingman's Dead albums for the harmony tips.
The pedal steel tone is great on this track.  Ironically, the steel sounds warm and bright at the same time. Garcia is utilizing the classic pedal sound that pedal steel is often known for.  
The pedal steel seems to be soaked with reverb and hot tubes from a Fender amp probably.  Take a close listen to this classic for inspiration and a good taste of pedal steel.
"Breathe (In the Air)" – Pink Floyd
Album: The Dark Side of the Moon
Release Date: 1973
Most people don't realize that this iconic album starts with ethereal pedal steel.  Launching the album into the atmospheric sound that it is famous for, it is a delightful listen.  
Pink Floyd's own David Gilmour plays the pedal steel on this one, and his love for the instrument can definitely be heard.  He has also played lap steel with the band, sometimes using distortion to create a bluesy rock sound.
This album feels like a story with soundscapes weaving the listener through time.  The mood for the rest of the album is not only set with this track, but also by the pedal steel's reverberations.  
Any listener can appreciate the textures in this track and album, which are undoubtedly enhanced by the pedal steel.
"Tiny Dancer" – Elton John
Album: Madman Across the Water
Release Date: 1971
This epic ballad is one that is hard not to love.  Most people don't realize pedal steel is in this track, as it is used subtly.  It adds a lot though, and is one of the first instruments to join Elton John in the track.  
Listen around the 0:54 second mark for the beautiful entrance.  Played by renowned steel guitarist B.J. Cole, the pedal steel is so tasteful in this track.
The pedal steel is a great accompanist to other instruments, especially when there is light instrumentation in the song.  
The pedal steel joins the music so impactfully, without overstating its presence.  Cole does a great job on this one, making this song even more memorable.  
"Harvest Moon" – Neil Young
Album: Harvest Moon
Release Date: 1992
This song really transports the listener with lyrical imagery, and the pedal steel's harmonics shine throughout.  Neil Young loved using Ben Keith for pedal steel on many of his tracks, and Keith's playing is so elegant.  
Listen for the harmonic chimes that the pedal steel creates to introduce Neil Young's lyrics in the first verse.  So simple, yet so rich.  This is one of the most beautiful tracks I've heard pedal steel on, and it just wouldn't sound the same without the pedal steel.

Some of Young's best work had pedal steel within the tracks, and this one easily establishes itself as a classic.  If you haven't heard much pedal steel before, this track is a good invitation for more.
"Something in the Way She Moves" – James Taylor
Album: Greatest Hits
Release Date: 1976
Played by Dan Dugmore, the pedal steel on this track complements the acoustic guitar and vocals really nicely.  This version of the tune is very bare in instrumentation, making the pedal steel a nice textural voice to add.
A beautiful song indeed, with great acoustic work, the pedal steel sits nicely in the mix. The pedal steel sounds velvety and provides the listener with a nice point of interest.
If you listen to this track with headphones, you'll notice that the pedal steel fills the whole stereo spectrum.  The panning and wideness of the pedal steel is certainly a nice touch in the engineering and production.
"Tangerine" – Led Zeppelin
Album: Led Zeppelin III
Release Date: 1970
One of Led Zeppelin's lighter songs, "Tangerine" features pedal steel in some of the choruses.  Played by Zeppelin's own Jimmy Page, the steel rounds out the song nicely and almost has a chorus-like effect to it.
Jimmy Page was a great producer in his own right, and must've noticed the pedal steel's ability to boost productions.  He uses it on a few of Led Zeppelin's songs, and it always creates a nice ambience.  
Like many songs on this list, I can't imagine hearing this track without the pedal steel in the choruses.  It definitely heightens them, bringing this track to the next level.  
I love how many of classic rock's greatest guitarists enjoyed playing pedal steel.  Check out the 2:09 mark on this song, the pedal steel adds so much depth.
"These Days" – Jackson Browne
Album: For Everyman
Release Date: 1973
Although this song features lap steel guitar instead of pedal steel, I couldn't help but include it on this list.  David Lindley's playing on this track is stunning, adding melodic elements that make it sound like multiple types of instruments.
His solo at the end is a centerpiece of the song, and it sounds like it could be a slide guitar you are hearing.  The lap steel's tone is crunchy, adding grit and a wholesome feeling to the song.  
This is an incredible song all around, and the piano is a nice texture as well.  The lap steel also helps introduce the song, again showing the steel guitar's prowess as an accompaniment instrument.
"You Ain't Goin' Nowhere" – The Byrds
Album: Sweetheart of the Rodeo
Release Date: 1968
It doesn't get any more classic than this song, and the pedal steel kicks off the song brilliantly.  The pedal steel will have you bouncing in your seat on this one.  It is such a feel good song, that it is bound to uplift your day.
This album features pedal steel playing by Lloyd Green and Jay Dee Maness, two steel guitar legends.  They also recently did a cover version of this album, which is worth checking out.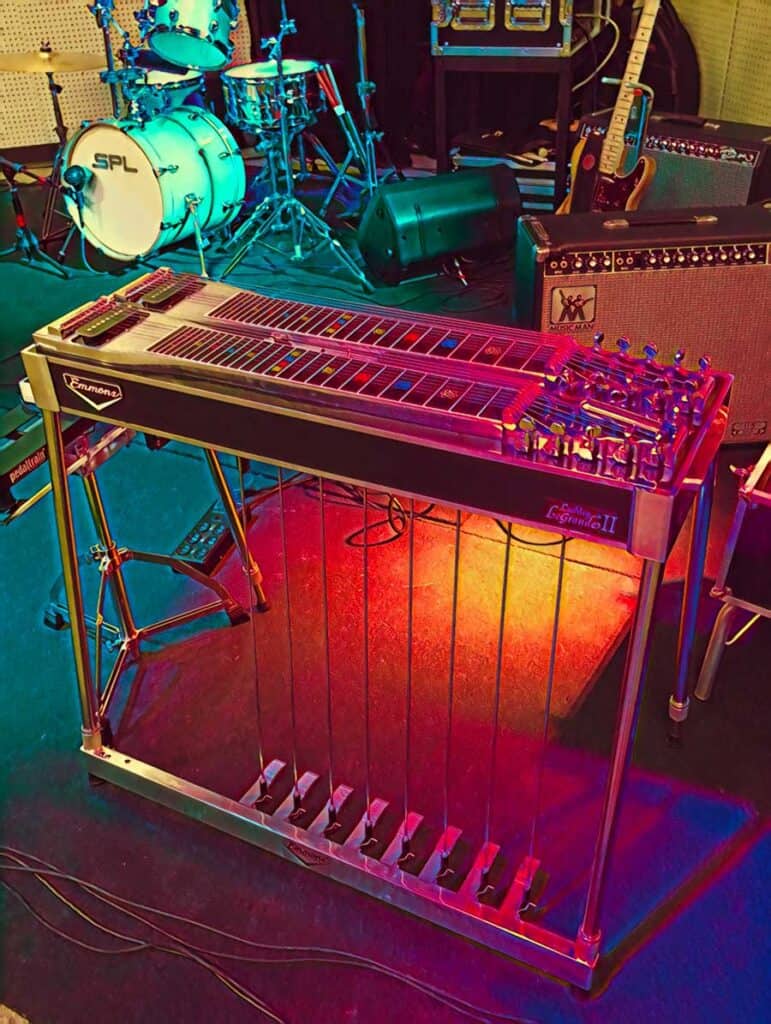 Many great musicians accompanied them on this cover album including Sam Bush, Richie Furay, and Jim Lauderdale.
This track is short and catchy, and the pedal steel parts are a great hook to the song.  This is country rock at its finest.  
"Dire Wolf" – Grateful Dead
Album: Workingman's Dead
Release Date: 1970
Jerry Garcia's love for pedal steel is once again on display with his playing on this cut.  You can hear his stylistic pedal uses, and the track leaps with spirit because of it.  
The tone Garcia gets is fantastic, especially considering his limited playing of the instrument.  It's just down to earth and really shows how the pedal steel fits in perfectly with certain songs and musical situations.
This era of music was great for the pedal steel, showing its versatility in many styles of music.  Without a doubt, Garcia exposed the instrument to many listeners who may have never heard of it.  
Listen to the pedal steel around the 2:07 mark, where it is featured with some panning to the left channel.  It's such a cool little solo, and Garcia certainly had an ear for the pedal steel.
"Willin'" – Linda Ronstadt
Album: Heart Like A Wheel
Release Date: 1974
Linda Ronstadt's version of this tune is certainly a treat for the listener.  The pedal steel and guitar have a nice interplay throughout, and there is an awesome steel solo at the 1:36 mark.
This track just makes you want to drive on the highway, with the windows down.  The nostalgic feel of this song is undeniable, and the great Sneaky Pete Kleinow plays the pedal steel.
His pedal steel playing is so full of character and this track shows this nicely.  It's no wonder he was on so many great albums with notable artists.
This whole album is great, and this track exemplifies it nicely.
"Anyway Bye Bye" – Poco
Album: Poco
Release Date: 1970
Although they may have not been as mainstream as some other bands from this era, Poco has had a lot to offer musically.  An amazing band that usually features Rusty Young on pedal steel, who was a pioneer for pedal steel guitar.
You probably won't immediately recognize the pedal steel in this song, since Rusty Young made it sound like an organ!  On certain songs, Young would play his pedal steel through a Leslie cabinet, and create organ textures and pads.  
The sounds are so realistic that it is tough to tell that it is not actually an organ that you're hearing.  It adds such a funky feel to this song, which is a classic rock masterpiece.
With a great arrangement and harmonies, this song has a lot to say.  The dynamics and hits on this song are to be reckoned with, and there is such a rich instrumentation.  Enjoy this one.
---
Thanks for checking out this page, hope it is helpful and makes playing more enjoyable! If you're interested in diving deeper into playing chords and scales on E9 pedal steel, check out these guides…
The Chord Guide for E9 Pedal Steel (E-Book, Digital Download)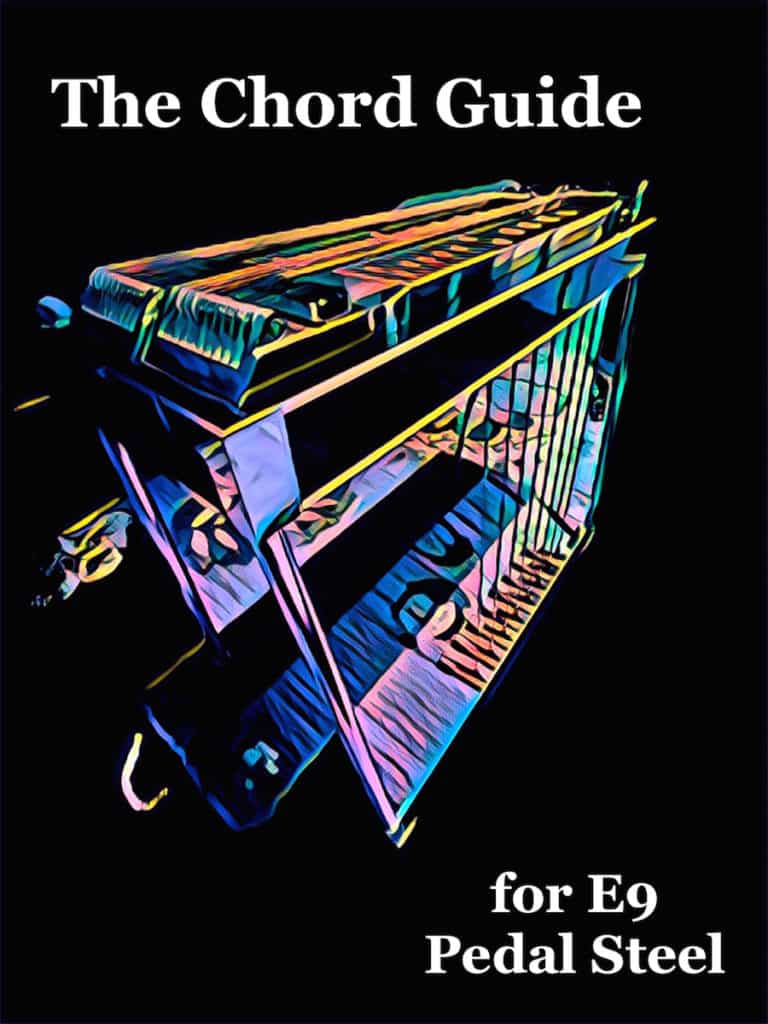 Learn the chords on the E9 neck in a way that makes playing simple and enjoyable…
Almost Every Chord You'll Ever Need for E9
Intuitive and Easy to Use
Make Use of Pedal and Lever Combinations
Example Tabs of Chord Movements
Easily Utilize the Nashville Number System
Great For Any Key and Style of Music
Includes a bonus section of over a hundred pages of extra chord charts, key references, and more!
---
More Digital Downloads for Pedal Steel…
The Scale Book for E9 Pedal Steel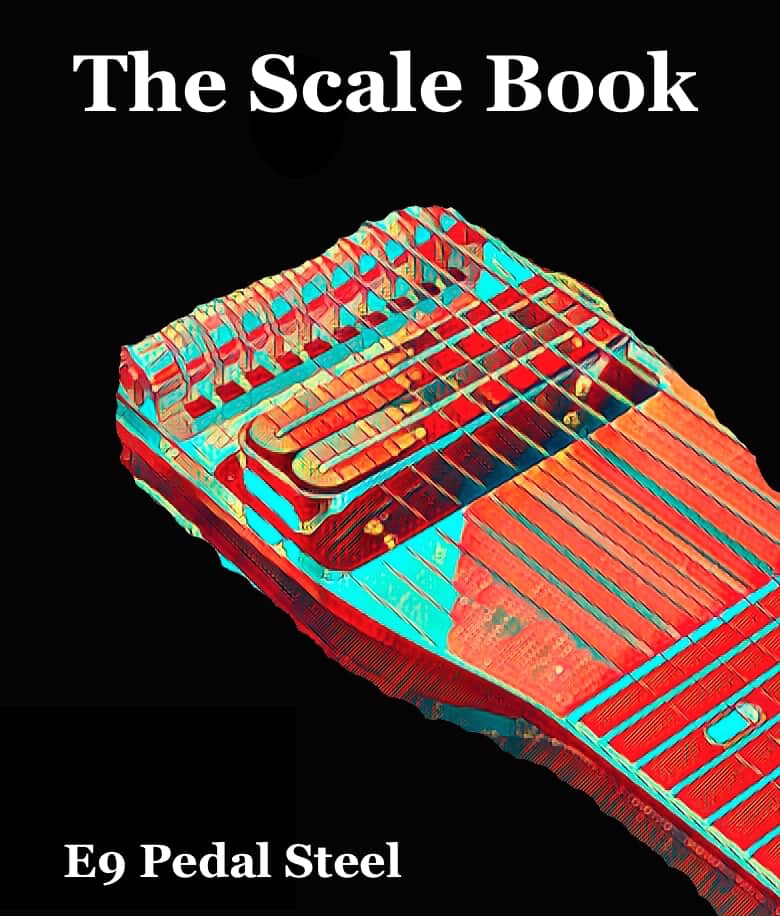 Over 1,000 Pages with Tabs and Diagrams!
---
Easy to Use Reference for Practicing
All Major and Minor Pentatonic Scales, Modes, Major Scales
All Keys, and Covers the Fretboard
Includes Pockets of Scales
---
The Art of Right Hand Technique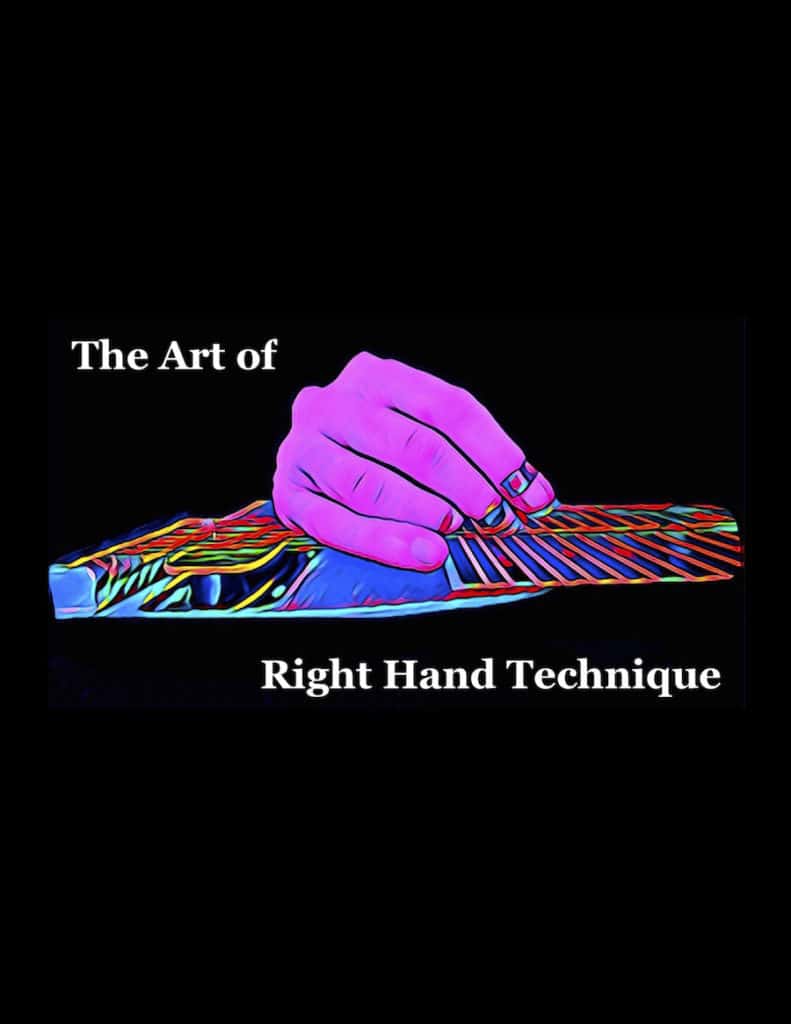 A detailed look at one of the most challenging and mysterious aspects of steel guitar playing: the right hand…
---
An In-Depth Guide to Picking and Blocking
How to Efficiently and Accurately Play Notes on Steel Guitar with

Info, Advice, and Tips

…
Great for Pedal Steel, Lap Steel, and Console Steel Guitar
Over 100 Pages with Graphics, Illustrations, & Practice Exercises
---
200 Country Riffs & Licks for E9 Pedal Steel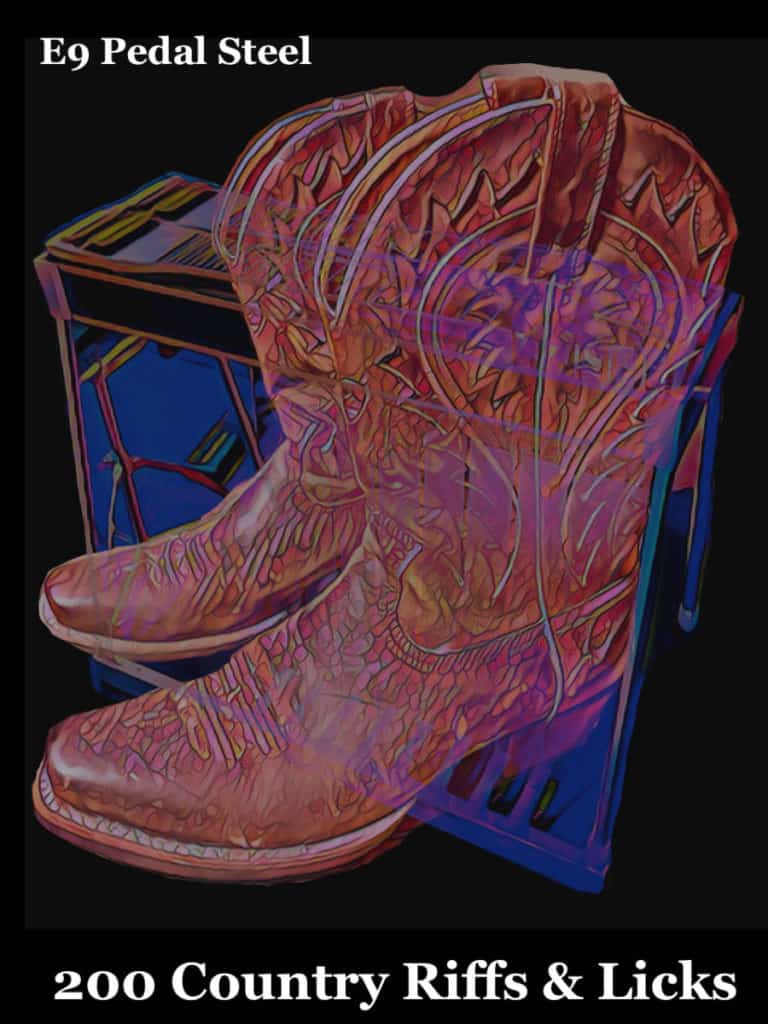 Add these country licks to your playing repertoire…
---
Includes Rhythmic Notation
Playing Over Chord Changes
Great for Country, Alt-Country, & Honky-Tonk Styles
The Elixir of E9 Pedal Steel: Harmonized 6ths
---