An eclectic duo of pedal steel and drums, Steel In Time offers creative interpretations of music with roots in jazz, rock, blues, and pop.
Combining rare instrumentation with unique arrangements, the duo presents listeners with cordial sounds and exceptional grooves.  The duo plays distinct renditions of songs, ranging anywhere from Led Zeppelin to Ryan Adams, playing with a sonic twist that grabs listeners' attention.
By using the pedal steel's broad frequency range, Casey Saulpaugh is able to coax organ-like tones out of the instrument, with a melodic spark. A percussive guru, Glenn Yoder pushes the drums through space and time, making listeners wonder if time really does exist.
"Steel in Time takes listeners on a unique musical odyssey via that smooth pedal steel sound with the just right touch of percussion." — Chuck Lee, Experience Music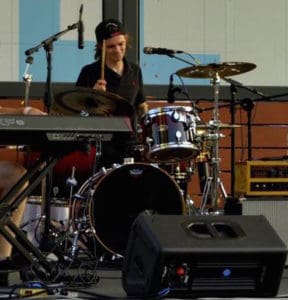 The two have played together in various incarnations over the last several years, devoting playing time to soul, R&B, funk, folk, Americana, and jazz. Entertaining crowds with notes and beats that come from the essence of the soul, Steel In Time answers a universal question: where else can you find a pedal steel – drum combo that plays Pink Floyd tunes?
Videos
Booking Inquiries:
caseyjamessound@gmail.com
336.416.6365
Press
"Casey Saulpaugh's deft touch on the pedal steel and Glenn Yoder's timely rhythms are a true musical treat for all audiences. Furthermore, their blend of wide ranging covers deliver a rewarding sonic experience in intimate or large rooms. Steel in Time – true professionals that deliver a feast for the ears."
Chuck Lee,  Experience Music
Photos