Having the right tools at your disposal is always a catalyst to a job well done. The same goes for practicing music: and having certain tools and accessories in your practice area, at a hands reach, can improve your practice efficiency.
After thousands of hours of practicing, I've personally used versions of the following tools and accessories many times, and find them to be really beneficial to have while practicing.  I can genuinely recommend these from experience.
This page has affiliate links, which means if you make a purchase, I will receive a small percentage of its price, at no extra cost to you. Thanks for your support, I truly appreciate it!
Bose Companion 5 Multimedia Speaker System – Graphite/Silver
 – I've always enjoyed Bose's audio products, and my family has too. I can remember different Bose systems and speakers being around while I was growing up, in my grandfather's home, as well as my family's. If you're going to spend the time to listen to good music and good recordings of it, then make sure you have a stereo system that sounds good, and has a frequency response that allows you to get more sonically out of the music you're listening to.
These can be great for a desktop, or computer area too, without the bulk of huge monitor speakers. They don't need stands, and it comes with a killer subwoofer. The bass response on this system is great, and it also has crystal-clear highs (treble range) for a home desktop system in this price range. It is very easy to plug your iPod, iPad, computer, or anything else that uses a standard headphone jack — there is a multi-function control pod with a volume control, headphone jack, Aux jack, and mute button.  This control pod is very nice to have, and makes using the system during practice much more user-friendly.
This system is great for playing drones, rhythm tracks, or listening to music while practicing, or for jamming along to this music with your pedal steel during the practice. This system gets plenty loud, and can sound great in a bedroom, practice room, living room, or kitchen too. This is not a docking system, or something more portable like those, so keep in mind that you will not want this if you plan on moving it to different locations often, since it has a subwoofer that isn't very light, and a few cables or cords that need to be attached too.  The whole system weighs in at 27 pounds in the carton, which is not bad for a system that sounds so big.
It also has digital 5.1 audio playback, making 5.1 encoded material sound amazing for a desk stereo system.  This system can make you feel like you're listening to a five-speaker surround system.  At the comfort of your practice rig, this can be really inspiring and helpful.  Basically, for two speakers and a sub, you get a big sound that feels like it is surrounding you.
Having this system near your practice rig is very helpful, as it is easy to fire up some music through it quickly with my iPad, iPod touch, iPhone, or laptop.  I've had my Companion III system (no longer manufactured, which is why I recommend the 5 series) for almost ten years, and still use it daily.  These Companion series systems pack a heavy punch for their price and size.
---
Apple iPad Pro (128GB, Wi-Fi, Silver) – 12.9″ Display
 – Having an iPad near your practice station can be an efficient, portable way to have many practice tools at your disposal. If you plan on moving your practice rig around once in a while, or more frequently, than having this is nice because you won't have to worry about a mouse, keyboard, or the bulkiness of a desktop computer.  Even if you practice in a the same area, and don't move your practice equipment much, this is a great tool that is portable around the room and house.
I've used the iPad countless times during practice to view lyrics, tabs, sheet music, articles, and watch videos. It is also nice to use in between your practice sessions, like for browsing The Steel Guitar Forum, or looking up music and pedal steel related information. There are many apps too that can help during practice (metronomes, tuners, music drones, and music streaming apps), and there are many apps that can help away from the instrument (deep focus or meditation apps, steel guitar apps, music theory apps, ear training apps, and more).
It also has the ability to take high-quality photos, which can be great for easily snapping pedal steel or music-related photos and sharing them online with friends and family. Also, listening to certain podcasts can be enlightening, and help you learn information that you may be able to translate into pedal steel guitar playing. Make sure you have wireless internet at home, or wherever you're practicing if you're going to purchase an iPad.
---
Apple iPod Touch 64 GB, Blue
 – This is nice to have at your practice rig if you don't own a smartphone, iPhone, or iPad. It is very portable and is great for listening/storing tunes, surfing the web for lyrics and tabs (if you have wireless internet), and you can utilize apps that can benefit you when practicing. These apps can include metronomes, tuners, and ear training tools, many of them for free.  These iPods are especially easy and user-friendly when connecting or syncing to Mac computers.
It has many of the features of the iPad, it's just in a smaller sized unit and is more affordable.  I also use this alongside the iPad while practicing: to multi-task and have multiple apps running simultaneously, with more control over them in my physical environment.
---
Dixon Ticonderoga Wood-Cased 2 Pencils (Black)
 – These are great to have laying around for whenever an idea pops into your head and you want to jot it down; for making/editing sheet music and tabs; and/or for checking things off your practice list. I like the black ones because they match my black '96 D-10 Emmons LeGrande II, and they don't remind me of school-work and homework like the yellow ones do. The black ones look more professional for the bandstand or the studio too. They are made with cedar wood.
---
Adjustable Steel LED Clip-On Desk Lamp –  I recommend good lighting for practicing in the evening, or in a darker area/room. Especially if you are in your learning stages on pedal steel guitar, then good lighting can help with seeing fret positions, helping bar control accuracy, and can also help you with seeing your picking hand.  It is very helpful for practicing other instruments too.
This lamp I've used a bunch, and it is really affordable. It's just a clip-on desk lamp, but the clip is sturdy, the lighting is very strong, and it's LED so it's efficient energy-wise.   You can find these at your local Lowes hardware store. I don't recommend clipping it to your pedal steel itself though, just something that is near you and works well. Be sure it is clipped well, and won't tip or fall over, and be sure to turn it off when you're done since it is clipped on and isn't a light fixture.
---
Spotify Premium Account – For around $10 a month, this is a great deal for a musician. It's a music streaming service with a wide access to great artists and songs. I've enjoyed it's selection of music, high audio-quality streaming rates (be sure to check what setting it's currently on, to see if you'd like to raise the audio quality or lower it based on streaming rates). I've found it's playlists to be enjoyable too, and it's got a good blues, rock, jazz, and pop selection. (It's a monthly recurring subscription so be sure to cancel if you only want to use it for a certain amount of time).  This music streaming service is much more beneficial than Pandora in my opinion, as it also allows playlists to be automatically made, on top of having an extensive library to hand-pick from.
---
Pedal Steel T-Shirts to Act as Pedal Steel Cabinet Cover (Dust, Humidity/Moisture, Looks) – 
Sho-Bud Pedal Steel Logo T Shirt (Black)
  &   Man Of Steel Pedal Steel T-Shirt
 – For at home, or around the practice room, it is often a good idea to cover up the top of your pedal steel in some way, if you're not going to put the steel back in its case. Covering up the cabinet and the strings, can prevent dust from accumulating, which leads to less instrument maintenance over time, and can extend the life of the instrument too. It will also help protect the strings from the environment, especially if you live in more humid areas, where the strings could slightly rust from moisture. For years I've just thrown a couple of cool-looking t-shirts over the cabinet to act as a cover. These are a couple ideas for shirts to use, if you don't want to spend a lot of money for a fancy cover.  Or maybe you just want to sport a cool t-shirt while practicing!
---
6-Outlet Surge Protector w/ 3-Foot Cord
 – I mainly recommend this because of the extra sockets it provides for pedal steel equipment and accessories that need power. For my standard practice rig, I need to plug in my amplifier, volume pedal, pedal board, stereo system, my lamp, and sometimes a cell phone and/or iPod or iPad charger. That's six different plugs, and a standard two-socket outlet found in most homes in the US won't be enough. I plug this surge protector (the surge protection is a nice feature to have too) into the wall and then plug my equipment into it from there. If you have the surge protector reasonably close to your pedal steel, as well as your other equipment near it too, then everything should be close enough as far as cord lengths go and everything reaching far enough (you should have enough slack in cables to reach, but you may have to move a couple things around to make it work).
---
KIND Bars, Peanut Butter Dark Chocolate (12 Count)
 – These are handy to have around if you need a little more energy, or you haven't eaten in awhile. They taste great, are high in fiber, and are natural. They are a good alternative to eating a candy bar, or other snack food that may be unhealthy, which can affect your practicing efficiency in my opinion. Having a healthy lifestyle can go a long way if you are a musician or pedal steel player. These really do taste great compared to many other bars!
---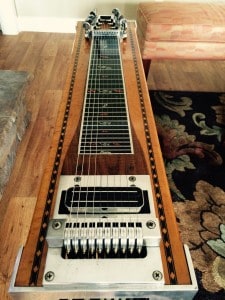 For more tips on how to use these tools, and to see other materials that can help when practicing, check out the pages below…
Pedal Steel Practice Rigs and Tips
Instructional Materials for Pedal Steel Guitar 
Books and Literature about Steel Guitar History and Styles
---