Casey James (born Nov. 7, 1987) is a pedal steel guitarist, session musician, and songwriter. He has a musical style that encompasses several genres, and gracefully complements songs.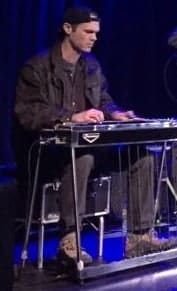 Booking/Contact
Casey has a unique improvisational approach that combines techniques of steel guitar, bottle-neck slide, melodic horn lines, and R&B guitar…although making the instrument scream and cry with emotion is his mainstay.
His sonic curiosity has given him an experienced background in audio engineering, mixing, producing, and mastering. This has led him to an awareness of the pedal steel's nature and functionality within music.
Casey has created, produced, and recorded many groups that display the pedal steel in fresh territory: from funky folk music to soul/R&B to alt-rock. He also revels in rock n' roll, and enjoys making the pedal steel drip with distortion – whether playing solos or adding support.
He has played in bands/genres embodying alternative rock, blues, country, folk, jazz, R&B, rock, singer-songwriter, soul, traditional country, and more.
---
 

Pedal

Steel Services:
–Recording Sessions in Studios –>Producers, Engineers, and Recording Artists…click here!
–Recording Sessions Remotely from Home Studio…   Send me your track – then I'll record a separate or overdubbed pedal steel track and send it right back to you for mixing! I can also provide a personal professionally mixed version of the pedal steel [EQ, compression, delay, and reverb] so you don't need to worry about the enigmas of the pedal steel when mixing. I'll use my audio engineering and pedal steel playing experience to make it sound sonically pleasing for the project!
–Live shows with bands
–Live shows with singer-songwriters or solo artists –> Singer-Songwriters…click here!
–Available for tours with artists on the road
---
---
---